Building in Bush Fire Affected Areas – what you need to know
Posted by Binai Construction on 15 February 2022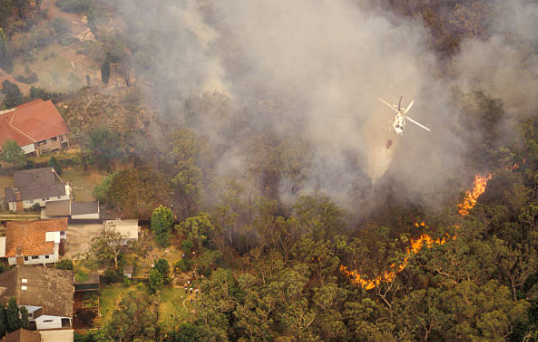 Building your home and living in an area surrounded by nature has its charms – peace, serenity, amazing views, beautiful bird life and of course having nature at your doorstep.
However, the devasting bush fires of 2019 & 2020 highlighted the dangers of building and living in bush fire prone areas.
Hundreds of thousands of hectares of land were burned, animals were affected, countless homes were lost and of course, lives lost.
And while you may think only rural or regional areas are affected by the threat of bush fires, as we saw in the 2019/2020, urban areas were also ravaged by the fires – particularly those areas near national parks and bush land.
As a result, this prompted an overhaul of the already stringent codes around building in bushfire prone areas.
Bush Fire Attack Level (BAL)
In May 2019, the latest Australian Standard 3959 was released, which lays out the requirements for construction and materials in bushfire prone areas.
One of the changes was how the bush fire attack level (BAL) was rated.
The BAL ratings refer to the risk of ember attack, exposure to radiant heat, and direct flame contact.
There are six bushfire attack levels as follows:
1. BAL-LOW – very low risk
2. BAL-12.5 – low risk
3. BAL-19 – moderate risk
4. BAL-29 – high risk
5. BAL-40 – very high risk
6. BAL-FZ – extreme risk (Flame Zone)
When choosing your area/land for your new home, it's important that you know how your area is classified as per the AS 3959 standard.
What you need to know when building in a high bush fire zone area
The first question that comes to mind is 'why would anyone want to build in a high bush fire zone area?'
And the simple answer is location, lifestyle, and ambience.
As mentioned above, many urban areas around Sydney would fall into one of the BAL levels.
Certainly, with bush firefighting technologies and crew readiness, the chances of your home being lost to bush fires has minimised – especially in urban areas.
However, if you are building in bush fire affected areas, you need to be mindful of certain factors, especially the increased cost and compliance requirements.
How do you know if your land is in a bush fire prone area?
To some extent, this will depend on each local council.
Ideally, it's best to check with your local council (website) to see if your land is in fact in a bush fire prone area.
If the land is in a bush fire prone area, then you may need a bush fire assessment.
The intent of a bush fire assessment is to gauge the bush fire attack level for your area which then determines some of the construction requirements to lower the risk from a bush fire event.
Again, the exact requirements will be dependent on your local council regulations.
Bushfire Assessment Process
The assessment process can be one of two methods;
The first method is a simplified assessment that looks at key critical factors such as radiant heat then implementing a six-step process to determine the bushfire attack level (BAL).
The second method much more detailed and complex and involves not only radiant heat, yet also flame length. This method also takes into account other factors such as fuel load, fire danger index, fire run and fire width.
Naturally, the second method will be much more accurate since many key factors will have been considered in the assessment process.
If your property is rated as BAL 29 (high Bush Fire risk) or lower, the process only requires you to have a Complying Development Certificate approval before commencing construction.
However, if your property is in Bush Fire Prone land with BAL 40 (very high Bush Fire Attack Level) or BAL FZ (Flame Zone), you will require a two-stage approval process, Development Approval AND a Construction Certificate.
What to consider when building in bush fire prone areas
While there are many considerations, some of the more basic ones include;
Keep your building design simple and low to minimise the risk of flying embers settling on your home.
Ensure critical services such as gas lines are below ground to prevent explosions.
If you can, install a rainwater tank that is not made of plastic.
House maintenance – regularly clean you gutters of leaves, shrubs, and any other dried vegetation.
Additionally, building in a bushfire prone area brings along several additional design, specification and construction requirements that are critical.
And these additional requirements can add extra costs to your new home.
As an example, timber windows and doors will need to be bushfire tested to meet the radiant heat and flame exposure requirements as determined by your BAL rating.
To comply with the National Construction Code, you will need to comply with the construction requirements for the respective BAL classification, a new home.
You will also be required to prepare detailed plans for your development application.
As you can see, bush fire prone areas are not just related to rural and regional areas – they are in fact right here in Sydney.
Contact Binai Construction for your next home build and we can advise you on your BAL rating as well as the steps needed to progress your development application, including;
DA approval process
Choosing the right bushfire rated building materials (depending on your BAL rating)
Simple and effective home maintenance strategies to keep your home bush fire safe
Contact Binai Construction
or call us 0404 91 91 91.
Author:
Binai Construction
About: Binai Construction is a design, approval and construction company with the team having more than 40 years of experience offering professional renovation, alteration, addition/extension, upgrading services and property development for both our commercial and residential customers.